Shihan Joseph and China Rivera Karate Instructor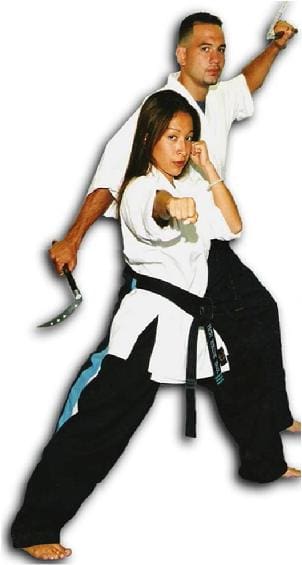 Shihan Joseph and China Rivera
Mr. Rivera started in the martial arts at the age of 7.
Although the channel 5 Saturday afternoon television shows were his first classes, he didn't enroll in a karate school until he was 13 years old. After just three weeks, he achieved his yellow belt and a black belt in under two years. By the age of 15 he was the top ranked fighter in NY & NJ. By the age of 16 he was the focus of an amateur national karate team. That year, he won the Junior National and World Titles of the N.A.S.K.A (North American Sport Karate Association) and N.B.I competition circuit.
At the age of 18, Mr. Rivera became the youngest Middleweight World Champion, a title he won again in 1993. Due to injury he missed the 1994 competitions but returned to win the title again in 1995. Mr.Rivera retired in 1996 as the #1 at Middleweight Champion to pursue the dream that would become Excel Martial Arts. He currently holds black belts in two styles and with a 5th degree in Chinese Goju.
Along the way, Mr.Rivera has won some of the most prestigious Karate Tournaments:
U.S Open

The Battle of Atlanta

The Diamond Nationals

The Empire State Nationals
He has also helped train students who went on to win a combined 24 National and World Titles.
Mrs. Shihan China
Mrs. Fuentes-Rivera began her martial arts career at the age of 11. After receiving her black belt, Mrs. Fuentes-Rivera competed in both forms and fighting becoming a top competitor in Junior and Adult divisions. At the age of 15 she enrolled in the Instructor Training Program and two years later was managing the Manhattan branch of Fontanez Karate Schools.
Mrs. Fuentes-Rivera has been featured in martial arts commercials starring Chuck Norris and other top competitors. In 1994, she hosted a cable network karate show. She has been teaching martial arts for over 20 years and has been promoted up the ranks in Kaizen Martial Arts to Shihan. In 1996 she helped build Excel Martial Arts into one of New York's finest karate schools. Mrs. Fuentes-Rivera is an exemplary role model and demonstrates a great love for working with children. Mrs. Fuentes-Rivera runs 3 dojos and an Afterschool Program of 100 students. Shihan China & Shihan Rivera are also the owners of Excel Yoga where many parents have made positive remarkable changes in both their mental and physical growth. Shihan China is also involved in many fundraisers in local schools to help promote Anti Bullying and Stranger Danger awareness.
Bronx's only state of the art Karate Facility